This journey began nine years ago in New York city.
He travelled from Minnnesota and she was from Nor Cal. Fate brought them together and the relationship took a turn where there was no looking back. They travelled to many places together. It was only a year ago when they decided to make it official during their vacation in Paris. I don't have the words to describe the incredible story they have; it was like a dream, almost like a movie that I'd want to watch many times over. The ceremony was magical!

The story of love their family and friends shared were truly remarkable. I felt warm tears rolling down my cheeks as Nicole and JP took their vows. I could only imagine the moment they promised their love to each other on one of their many long walks in the New York streets.
It was a celebration of love; the love Nicole and JP shared, the love their dear family and friends had in store for them. The Italian Celebrezione took place at the Charles Krug Winery in St. Helena. The Carriage House is absolutely gorgeous. This was a wedding I have been waiting to shoot since I heard all about it from Nicole. Details, details, details…there were a lot of thoughtful details in this wedding. Nicole looked absolutely stunning on her Selia Yang designer gown. Beautiful vibrant color of hot pink & magenta added an extra charm. They had a Italian style sit-down dinner at the lawn infront of the Carriage house. The course began with delicious Caprese salad with the sweet tomatoes that Nicole's mom grew in her garden. I had a pleasure of capturing Chef in action while he plating the salad.
Nicole and JP had a very unique ceremony. Family and friends were seating in a circular setting, Nicole, JP and the reverand of the day, Adam, Nicole's brother were in the middle. Como, their adorable Golden Retreiver, had a special pillow to relax on while the ceremony was in progress. There was a vintage Vespa parked in front of the Carriage House, Celebrezione sign hannging from the balcony. They had vintage maps of San Francisco as guest sighning sheet. Nicole and JP took the stage to their first dance with the beautiful melody of "At Last" by Etta James, performed by the incredible, Bay Area band "Pride and Joy". The night continued with the covers of Stevie Wonder, Michael Jackson and many more.
I was honored, thrilled, overjoyed to be a part of Nicole and JP's matrimonio. I fell in love with their family one more time (I first met them at the Bilardello+Hill wedding who also are incredibly wonderful)! I was touched by the love in every heart (I swear I'm in not making it up even a bit). And after knowing them so well and how they treated me, I felt like a part of their family. I just hope that I get to see them again in the near future.
Nicole and JP, I'm beyond excited for you! Have a fabulous time in Santorini!
Grazie, amore!
Love the vintage maps of San Francisco…

Circular ceremony …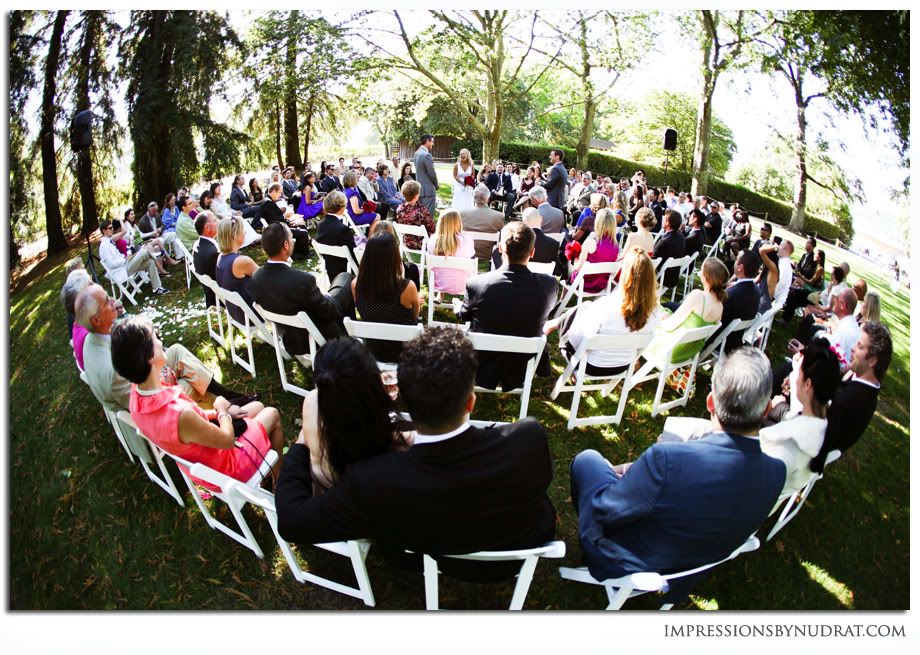 467 votesvote as favorite
The orange book and iPad…technology meets tradition…
The first kiss as mr and mrs …
Chef from Tra Vigne restaurant in Napa setting up the salad plates…
The first dance…
Last but not least, Nicole' shoes! Gotta love those shoes! 
Location – Charles Krug Winery, Carriage House, St Helena, CA
Coordinator – Kellie Magna
Florist – Sarah Padilla
Awesome band – Pride and Joy
Caterer – http://www.travignerestaurant.com/
Photographer – Nudrat Owens
open post